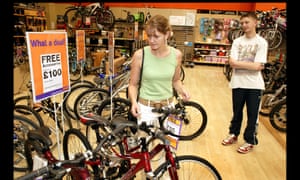 Good morning, and welcome to our rolling coverage of the world economy, the financial markets, the eurozone and business.
Bicycles have joined the lengthy list of products caught up in this summer's supply chain problems.
Car-to-cycles firm Halfords has reported this morning that its bicycle operation has been dragged back in recent weeks by disruption in the global cycling supply chain, with sales sharply lower than last year.
With factories struggling to meet demand, rising commodity prices, transport disruption, and a shortage of drivers and technicians, the company was left facing low availability of some bikes, and recruitment challenges at its Autocentres business.
And it warns that the situation won't be resolved fast.
Availability of adult mechanical…