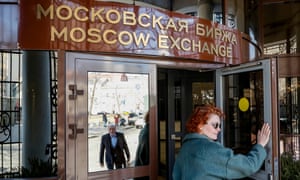 The Russian stock market fell back today, wiping out much of Thursday's rally when the exchange reopened for the first time in almost a month.
The Moex share index slid by 3.66% today, with every sector in the red, having gained 4.4% yesterday.
Limited stock trading resumed yesterday with several restrictions to prop up shares, including a ban on short-selling, and on foreign investors selling stocks. That helped to spark a rally yesterday, when oil and commodity stocks jumped.
Analysts have pointed out that these curbs meant Moscow's market wasn't operating properly, while the US dubbed it a "Potemkin market opening".